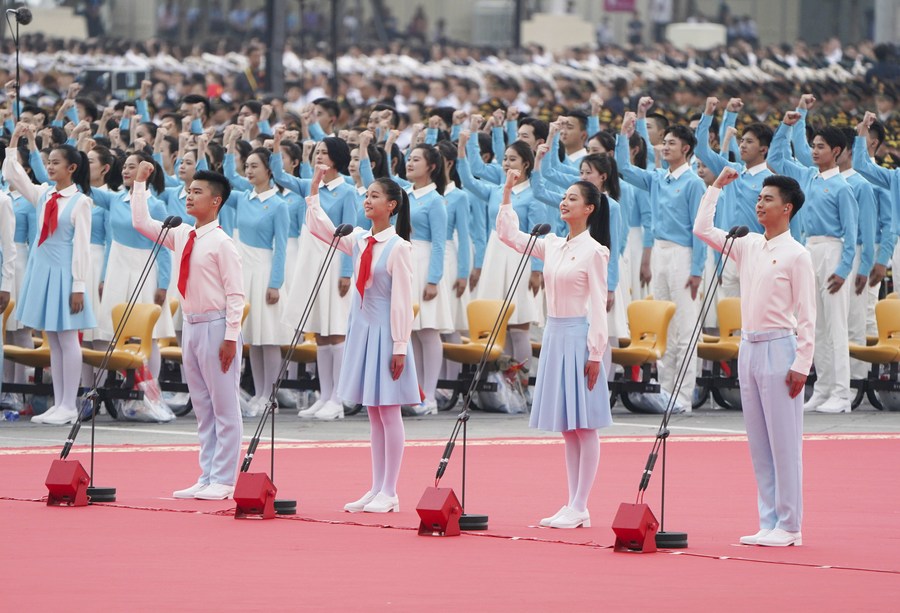 Representatives of the Chinese Communist Youth League members and Young Pioneers salute the Communist Party of China and express commitment to the Party's cause during a ceremony marking the CPC centenary at Tian'anmen Square in Beijing, capital of China, July 1, 2021. (Xinhua/Chen Yehua)
In 2012, the 18th National Congress of the Communist Party of China (CPC) drew up an ambitious plan to complete the building of a moderately prosperous society in all respects and called for moving towards achieving this goal when the CPC celebrated its centenary in 2021. This goal constitutes a dream for all Chinese people, especially the youth, who naturally have great dreams and have great potential to realize them.

China's dream of building an affluent society concerns all Chinese, but it holds even greater significance for young people as it is linked to their future. The youth are most capable of confronting the challenges that come with realizing this grand vision and are most willing to overcome obstacles and barriers and deal with the technologies of the age. Therefore, specific and focused foundations must be identified to ensure that efforts are made toward the right goals and in the right direction.
His Excellency Chinese President Xi Jinping has a rich, fruitful, and distinguished experience, and thus he represents a distinguished role model for the Chinese youth. The Chinese president's presence is strongly and effectively felt in the party's institutions. By reviewing the CPC publications, the researcher has derived the foundations on which the party inspires young people, and they can be summarized as follows:
1. The consolidation of ideals and faith is crucial as achieving great feats depends on big aspirations, and achieving a big cause depends on hard work. Ideals can guide human beings, and faith determines the success or failure of a business.
2. Young people must possess real competencies, as education provides factors for moving up the ladder towards progress and growth, and practice is what gives young people experience and raises their competence. As an old Chinese proverb goes, "Learning is the bow, while competence is the arrow." Neither the bow alone is sufficient, nor can the arrow hit the target without the bow. Young people should keep learning and renewing knowledge to face modernization, development, and the future in which technology is accelerating dramatically and rapidly.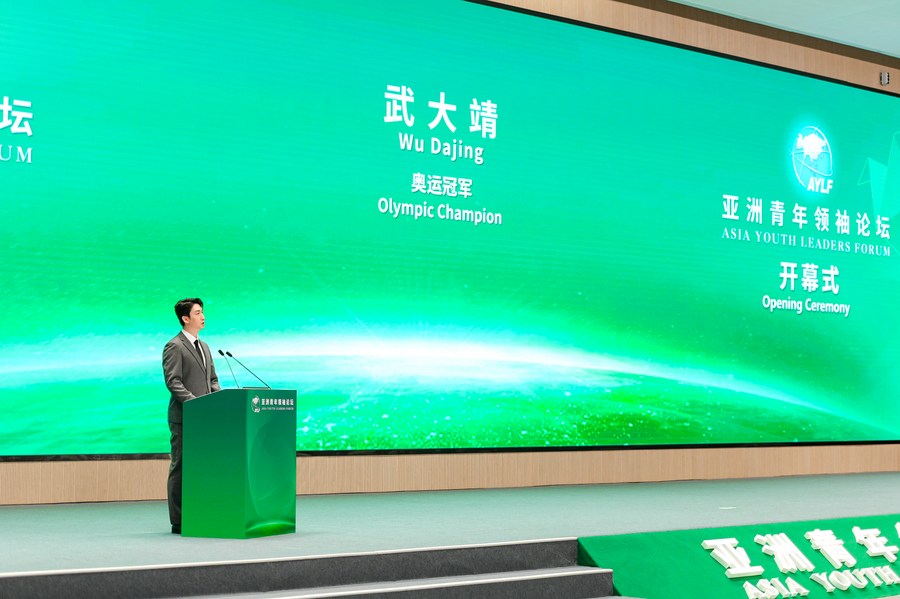 Chinese short-track skater and Winter Olympic medalist Wu Dajing delivers a speech during the opening ceremony of the Asia Youth Leaders Forum in Guangzhou, south China's Guangdong Province, March 25, 2023. (Xinhua)
3. Young people must dare to innovate, which is the spirit of progress and the inexhaustible source for the prosperity and development of the country. Youth is the most dynamic and capable group for innovation, and it is their duty to move forward with full force in innovation. Life is in a constant state of flux, and therefore people should not be content with the existing conditions, nor wait for those who do not strive for progress. It is not possible to enjoy the blessings of this world without putting in the effort. Young people are required to surpass the achievements of their predecessors and be determined to build a youthful state and nation, and they must show determination and persistence in the pursuit of truth, no matter how challenging the journey may be.
4. Continuous refinement is what gives a sword its sharpness, and the fragrant scent of flowers follows the harshness of winter. Similarly, the hopes of people are not easily achieved but require a bitter struggle. China has rich experience in this regard, as the Chinese nation has gone from poverty and weakness to growth and prosperity through generations of tireless struggle. The future holds significant opportunities for growth, but also presents unprecedented difficulties and challenges. Only those who enhance their capabilities and self-confidence can rise to the occasion and become superior.
5. Young people must refine their morals. As an Arab proverb states, "Nations remain for as long as they have morals, and if their morals are gone, they are gone." In the case of China, socialism with Chinese characteristics has led to the development of both spiritual and material civilizations. This is because a nation that lacks spiritual strength would find it difficult to achieve its own strength, and a cause devoid of culture cannot last long. The late Chinese leader Mao Zedong once wrote an inscription, "Learn from Comrade Lei Feng," a late ordinary soldier and a role model in China celebrated for selflessly helping others. Lei Feng had been persistent in serving the people with honesty and sincerity and was happy to provide assistance to others. He died young as a martyr of duty, and China commemorates his life and spirit every year on March 5, which is celebrated as Lei Feng Day.
People visit the Lei Feng Memorial Hall in Fushun, northeast China's Liaoning Province, March 4, 2023. Many people visited the Lei Feng Memorial hall ahead of "Lei Feng Day", which falls on March 5 every year in remembrance of Lei Feng, a young soldier who embodied the spirit of self-sacrifice. (Xinhua/Pan Yulong)
6. The youth in the CPC should launch practical activities and provide in-depth education for both old and young people about the Chinese dream. When the general dream becomes the dream of every person, the ability to realize it increases rapidly. In union, there is strength.
7. It is necessary to consolidate the common thought base of a large number of young people, to define the viewpoint on the world, on human life, on the correct values, and the correlation between words and actions. The West has talked for a long time about democracy and freedom in its books, films, and publications, but the shocking truth is that those who control power and the capabilities of society are greedy capitalists who are unconcerned about the destinies of people and instead always seek sources of profit and increased wealth. Numerous wars have been waged, past and present, under false pretexts, with reality revealing that they were motivated by arms manufacturers and the greedy capitalist lobby. The collision between words and deeds has led many Western societies to suffer from intellectual emptiness, making them captive to drugs and perversions.
8. An exemplary personality usually sets a good example for young people. Youth leaders can also achieve this status if they are sincere in their commitment to their faith, consciously and perceptively adhere to the interests of society, prioritize the public interest over personal gain, and set their sights on high values and ideals. They must not hesitate to undertake tasks, whether big or small.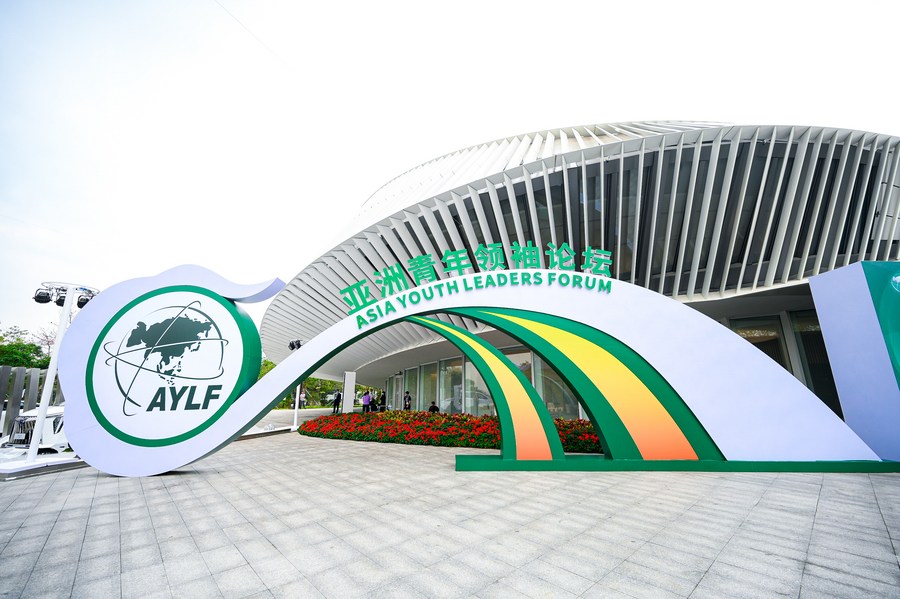 This photo taken on March 25, 2023 shows an exterior view of the venue of the Asia Youth Leaders Forum in Guangzhou, south China's Guangdong Province. (Xinhua)
9. Youth comes only once in a person's life. We have the choice to either make the most of this time by pursuing personal growth, contributing to society, developing new skills, and maintaining our physical and mental health, or slip into laziness and waste time, thus becoming a burden on our families, society, country, and nation. Choosing to endure the hardships and challenges of youth can lead to a bountiful harvest in the prime of life.
10. Experiencing setbacks, despair, and challenges during youth can help individuals navigate life's path more effectively. Such experiences can help foster determination, enabling individuals to pursue progress despite facing obstacles.
Adnan Bourji is the director of the Lebanese National Center for Studies.