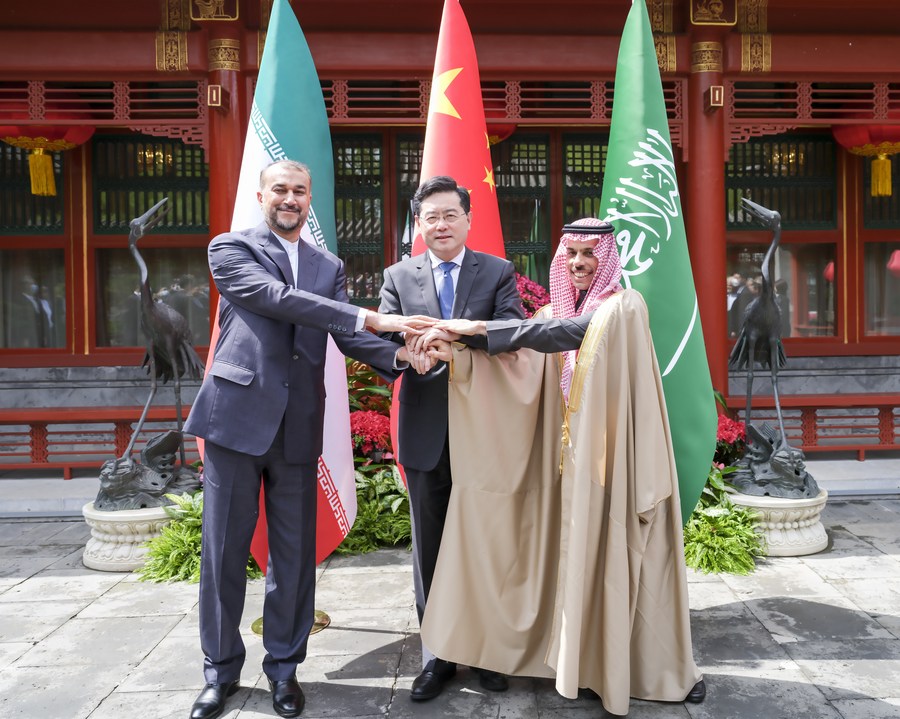 Chinese State Councilor and Foreign Minister Qin Gang meets with Saudi Arabian Foreign Minister Prince Faisal bin Farhan Al Saud and Iranian Foreign Minister Hossein Amir-Abdollahian in Beijing, capital of China, April 6, 2023. (Xinhua/Ding Lin)
Chinese President Xi Jinping has mentioned on various occasions that the world today is going through profound changes unseen in a century. The world is going through significant changes, which would lead to a rebellion against the current unilateral world order. This would mean leaving the era of dependency on the United States and shifting towards a new world order based on strategic independence, with a focus on the economic and developmental interests of states and peoples.
Many countries met these changes positively and rapidly, as they believe that these changes constitute the opportunity to liberate themselves from the policy of submissiveness to the United States, which places its own interests as a priority and links the wealth of countries to the U.S. dollar to pressure and force them to follow U.S. policies, even if they are destructive. The countries that responded to the changes are Saudi Arabia, the Gulf states, Egypt, India, Russia, and China.
"Do you support us or the other axis?" is a question that America and its Western followers have been asking. America was also using a language of threats and intimidation to force other countries to line up behind it and oblige them to trade with the U.S. dollar as a global currency to secure its own interests, without caring about the interests of other countries, and the development of peoples. With that threat and great injustice, America was able to rule the world.
Today, with regional and international changes taking place, economic and developmental interests have become the priority of policies adopted by states.
So the blocs and alliances have now become more economical, technological, and developmental rather than political or military, and we cannot ignore the impact of these changes on other countries' foreign policies. It is no longer possible to force these countries to take a position in support of America or the West which is against their economic interests.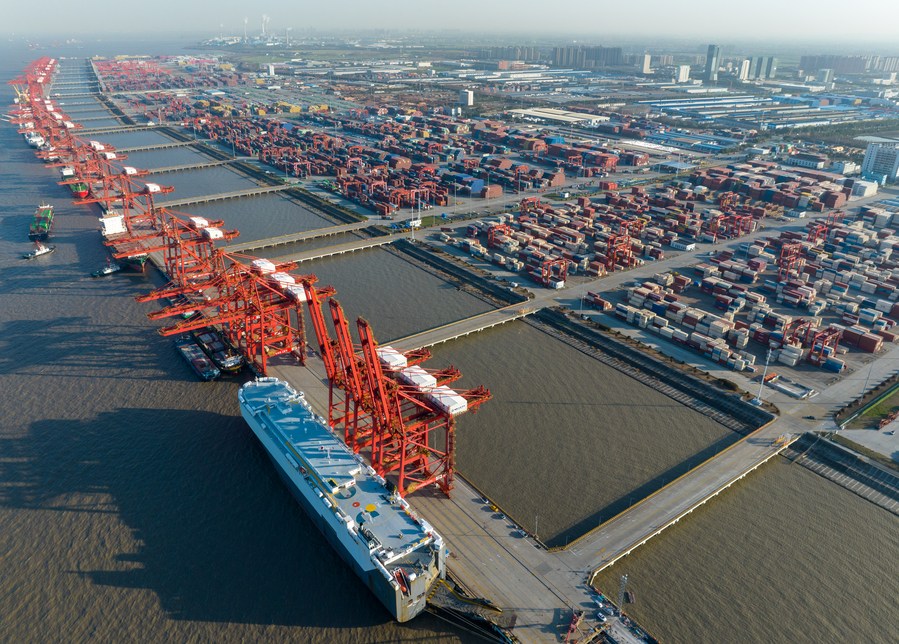 This aerial photo taken on March 13, 2023 shows a container terminal of Taicang Port, east China's Jiangsu Province. (Xinhua/Li Bo)
The circle of non-compliance is expanding. An example is the Organization of the Petroleum Exporting Countries (OPEC) and its allies, known as OPEC+. It rebelled against the issue of sanctions by reducing oil production instead of increasing it, which caused American wrath. Another example is Russia's continuing sale of oil to the world despite America's sanctions imposed on those who buy oil from Moscow; some European countries even purchase oil directly from Saudi Arabia, which, in turn, buys gas and diesel from Russia at reduced prices, then sells them at high prices, generating huge profits.
The logic for these countries has become very simple: economic and developmental interests are a priority, and they determine the political stance, not the other way around. But, unfortunately, Western countries, especially the United States, seem not to understand this.
What is new about the changes is that despite their non-compliance with Western sanctions and dictates, these countries have not boycotted the United States. Instead, their decisions have become more based on an independent strategy that guarantees the balance of economic interests. The sooner the West, mainly European countries, recognize these changes, they will be able to formulate their strategies based on actual data. However, in practice, the West and America are both far from reality.
It seems that French President Emmanuel Macron decided to adopt a realistic approach after noticing the danger of European dependence on the United States.
On his way back from China, Macron made a statement to French journalists, reported by Politico, saying that Europe must reduce its dependence on the United States, and avoid being drawn into a confrontation with China over the Taiwan question. He also stressed his theory of strategic autonomy for Europe, which is supposed to be adopted by France, to become a third great power, as he puts it.
Macron said that the great danger that Europe faces is that it is stuck in crises that prevent it from building its strategic independence, stressing that the Europeans should not be followers of the United States in crises that Europe has nothing to do with.
Macron pointed out that Europe has increased its dependence on the United States for weapons and energy. Therefore, Europe must now focus on strengthening its economy and defense industries, calling on Europe to reduce its reliance on the dollar outside regional borders.
In an article by French analyst Renaud Girard published by Le Figaro newspaper earlier this month, Girard said that the Americans used their currency as a tool to impose political pressure and blackmail countries to submit them to its interests, which led to a motive for a global movement to overthrow the dollar dominance. Abandoning the dollar is an irreversible process as Washington used its currency as a tool to blackmail other countries, he said.
In an interview with Sky News, the American economist Jeffrey Sachs predicted a dramatic end to the U.S. dollar soon, adding that America will lose the primary weapon of pressure, which it has always used to blackmail countries of the world. He said that the world is heading towards multipolarity and the end of Western hegemony, and the world's nations need regional integration to achieve economic security and development, as the America-fabricated conflicts are no longer beneficial to anyone.
In conclusion, the U.S. dependence policy is no longer effective, and dealing with the U.S. dollar is no longer mandatory. Instead, it is a policy that is disintegrating. The West must see these changes quickly.
Today's trend is moving towards organizing a new multilateral world system that depends on economic integration and local currency exchange, similar to what's happening between Russia, China, Saudi Arabia, and India.
Refaat Badawi is a political analyst and adviser to former Lebanese Prime Minister Salim al-Hoss.