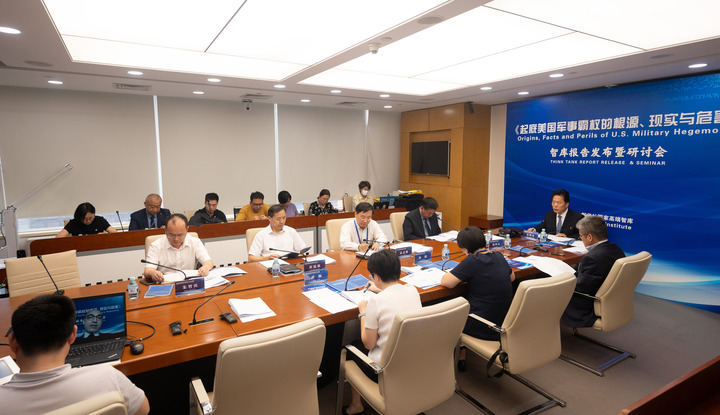 Xinhua Institute, the think tank of Xinhua News Agency, released on Tuesday a report on the "origins, facts and perils" of the U.S. military hegemony and held a seminar on the topic.
By presenting facts and data, the report traced the root of U.S. military hegemony, explored how America has pursued, maintained, and abused its military hegemony, and shed light on the perils of the country's hegemonic practices.
U.S. military hegemonyis a central pillar to the country's pursuit of a unipolar world and hegemonic order, according to the report.
The hegemonic acts of the United States, such as waging wars wilfully and intervening militarily in other countries, have destroyed human lives, trampled on human rights and the sovereignty of other countries, undermined global peace and development, and unleashed great suffering and disasters onto the peoples of certain countries, which are the greatest source of chaos threatening global security and stability and impeding the progress of human civilization, the report stated.
A group of foreign experts from Asia, the Middle East, Africa, the Eurasia, Europe, and Latin America as well as several Chinese scholars participated in the seminar in person or virtually, and they spoke highly of the report.
Dmitry Suslov, deputy director of the Center for Comprehensive European and International Studies at the National Research University Higher School of Economics in Moscow, described the report as "deep, accurate and timely."
"The United States has always been the most expansionist power in the world," Suslov continued, stressing that its military hegemony"was characterized by staunch violations of international law and illegal military interventions."
Zivadin Jovanovic, president of Belgrade Forum for a World of Equals and former Serbian senior diplomat, said that "this document will play an important role in strengthening global understanding, solidarity and coordination of efforts toward building polycentric, more just, inclusive, truly democratic new world order."
The report was released globally via various platforms including websites and social media in Chinese, English, French, Spanish, Russian, and other languages.
Xinhua Institute is the only media-type think tank in the array of China's national high-end think tanks. With policy research as its main focus, it has carried out forward-looking and strategic research around major domestic and global issues in recent years, and has released many influential research results.