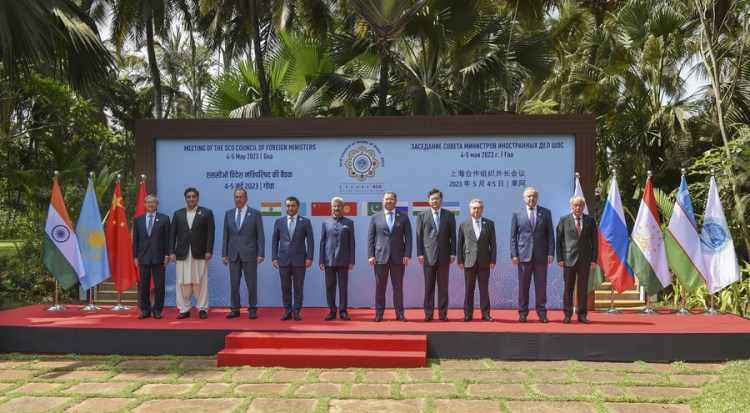 Chinese State Councilor and Foreign Minister Qin Gang attends the Shanghai Cooperation Organization (SCO) foreign ministers' meeting in Goa, India, May 5, 2023. /Xinhua
The Shanghai Cooperation Organization (SCO), representing over 40 percent of the global population, lent new impetus to expanding its ranks and bolstering regional security cooperation at the Council of Foreign Ministers meeting in Goa. The emergence of four new dialogue partners strengthens the case for more representative participation in a divided world.
At the same time, steady progress on major thematic cooperation areas lays the groundwork for the upcoming SCO leaders summit in July. "China is ready to coordinate and cooperate with other SCO members and jointly support the SCO's participation in implementing the major initiatives including that of building a community with a shared future for mankind," said Chinese State Councilor and Foreign Minister Qin Gang in his address.
At present, a resurgence in cold war mentality and power politics has made it critical to uphold the spirit of multilateralism and benefit Eurasian stability. The SCO foreign ministers' support for bolstering decision-making capacities within global institutions is a step towards more inclusive reform, given heightened prospects of SCO's own coordination with the United Nations and BRICS countries.
Substantial support for formalizing Belarus and Iran's SCO membership could also open up new opportunities for expanding the SCO's regional outreach, and delivering on shared economic, development and security interests. Kuwait and the United Arab Emirates (UAE)'s inclusion as dialogue partners should also be seen in a similar light: It brings more of the region's fast-evolving economies into the SCO's ambit of multilateral cooperation, and makes it clear that a more just and rational international order is the conducive choice.
With some of the developing world's most pressing security and economic concerns on the agenda, there is no doubt that the SCO is applying itself as a constructive force in turbulent times. For instance, broad-based support for countering all manifestations of terrorism sends a powerful signal on collective unity against regional spillovers and transnational security threats.
The SCO's expanding network of partnerships can also undergird future synergies between the Middle East and Asia in existing areas of engagement such as energy, while putting a floor beneath bilateral tensions in volatile neighborhoods. "When great powers play the role of peacemaker, we can unlock the potential of peace while paving the way for greater cooperation, regional integration and economic opportunities for our peoples," said Pakistani Foreign Minister Bilawal Bhutto Zardari at the meeting.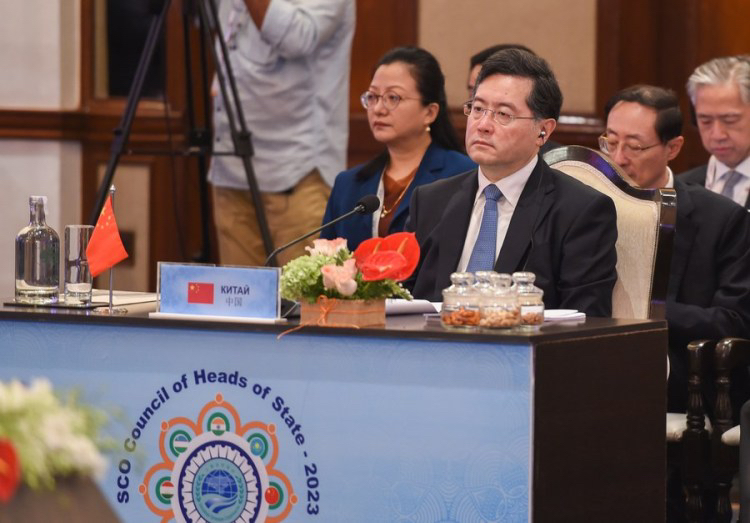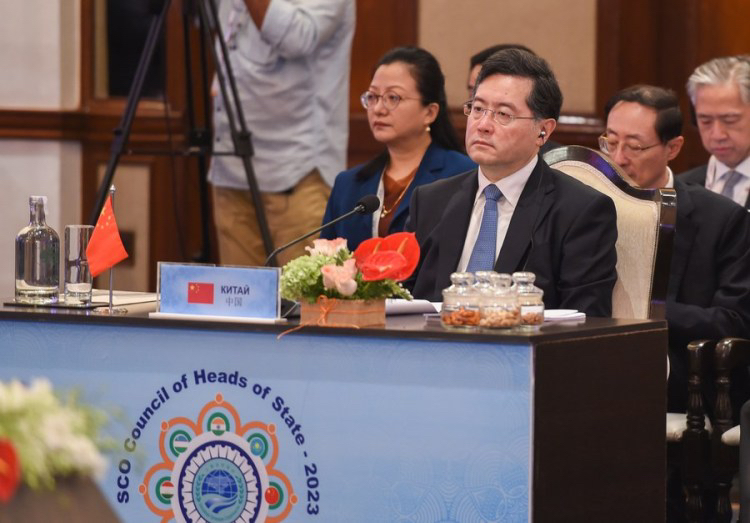 Chinese State Councilor and Foreign Minister Qin Gang attends the Shanghai Cooperation Organization (SCO) foreign ministers' meeting in Goa, India, May 5, 2023. /Xinhua
For some time, the SCO's approved framework for cooperation in trade in services has lent impetus to burgeoning investment and free trade opportunities. That framework stands to gain further with new cooperation pledges spanning transportation, energy, finance and digital economy spheres. The SCO's growing global trade profile over the past two decades, and its long-standing emphasis on alternative currency settlements, also positions it to tap into integrative solutions on trade acceleration, such as those proposed by Russia through the Eurasian Development Bank, the Asian Development Bank, and the BRICS New Development Bank.
From an institutional standpoint, such prospects can also empower the SCO to address what has been described as a "credibility and trust deficit" in the ability of global institutions to manage challenges effectively.
The SCO countries account for almost a quarter of the world's GDP, and proposals to upgrade the SCO's response mechanism are chief to adapting to "new threats and challenges." After all, the world is witnessing a rise in unilateral protectionism and hegemonic forces, presenting a major challenge to the exercise of effective governance within international institutions. To that end, a desire to enhance the SCO's organizational cohesion can help an influential global cooperation body adapt to modern economic and geopolitical realities, while benefitting entire populations in the process.
Taken together, the SCO foreign ministers meeting painted a telling picture of its growth, evolution and substantial appetite for intra-regional cooperation. From Eastern Europe to Southeast Asia and the Middle East, over a dozen dialogue partners and observers now grace its ranks and a high degree of strategic independence informs the SCO's approach to interconnected development and regional security.