China has made fresh pledges on increasing imports and easing market access for foreign investors among a raft of opening up measures, as the sixth China International Import Expo (CIIE) opened here Sunday.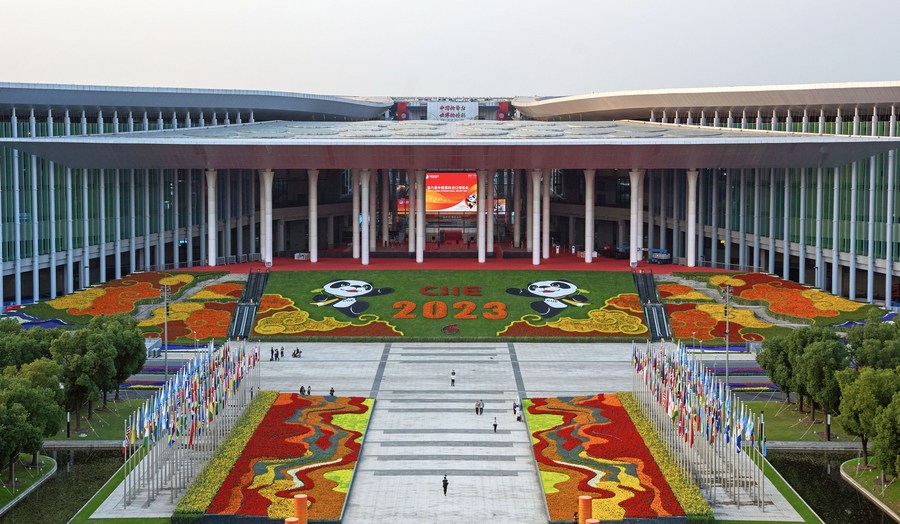 This photo taken on Nov. 3, 2023 shows the south square of the National Exhibition and Convention Center (Shanghai), the main venue for the 6th China International Import Expo (CIIE), in east China's Shanghai. (Xinhua/Liu Ying)
Making its first complete return to in-person exhibitions since the onset of COVID-19, the annual expo again put the spotlight on China's dedication to high-standard opening up and shared development in a global economy confronted by myriad challenges.
This year's CIIE has attracted participants and guests from 154 countries, regions and international organizations. Over 3,400 exhibitors and nearly 410,000 professional visitors have registered for the event, representing a full recovery to pre-pandemic levels.
The world's first import-themed national-level expo, the CIIE was personally planned, proposed, deployed and promoted by Chinese President Xi Jinping, for the very purpose of expanding China's opening up and turning the enormous market into great opportunities for the world.
China will firmly advance high-standard opening up and continue to make economic globalization more open, inclusive, balanced and beneficial to all, said Xi in a letter to the import expo on Sunday.
"GOLDEN GATE" OPENING WIDER
From highly flexible robots and innovative therapies for rare diseases to Syrian perfumes and Afghan carpets, a wide variety of products and services from across the globe are on display at this year's expo, which has been known as the "golden gate" to the vast Chinese market since its inauguration in 2018.
In the previous five editions, 131 countries and international organizations participated in country exhibitions, with about 2,000 new products, technologies and services making their debuts, and a total intended turnover of nearly 350 billion U.S. dollars.
In a keynote speech at the expo's opening ceremony, Chinese Premier Li Qiang said China's imports of goods and services are expected to reach 17 trillion U.S. dollars in cumulative terms in the next five years.
Noting that China has always been willing to share its market opportunities, Li also vowed to actively expand imports, implement negative lists for cross-border service trade, and continue to ease market access.
"The latest announcement on China's expected import volume for the next five years is extremely encouraging, for both foreign companies doing business with China and the world economy as a whole," said Julian Blissett, General Motors (GM) executive vice president and president of GM China.
Compared to previous editions, this year's CIIE has set record highs in the number of Global Fortune 500 companies and industry leaders in attendance.
"The expo's full return to offline exhibitions this year is exciting," said Blissett, who referred to the CIIE as a "perfect example" of China's commitment to opening up.
"We're looking forward to further tapping the huge potential of the Chinese market, which has great appeal with its dynamism and openness," he told Xinhua.
Over 400 new items -- products, technologies and services -- will take center stage at this year's CIIE, some of them making their global debuts, demonstrating the importance of the Chinese market in the world economic landscape.
"CIIE is an important platform that attracts world-leading companies to showcase their latest technologies and innovation capabilities," said Jasper Ang, president of Fortive Asia, enjoying its sixth CIIE adventure.
At this year's event, the company is displaying technologies and solutions in such fields as industry 4.0, green energy, green transportation and advanced healthcare.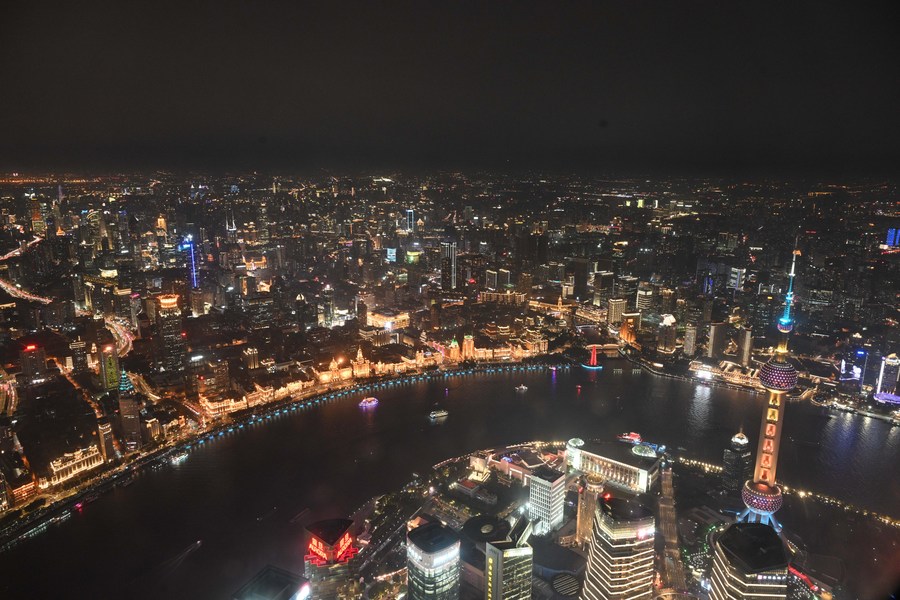 This photo taken on Nov. 3, 2023 shows a night view of Shanghai, east China. The 6th China International Import Expo (CIIE) is scheduled to be held in Shanghai from Nov. 5 to 10. (Xinhua/Jin Liwang)
PROMISING WINDOW OF OPPORTUNITY
While the global economy faces increasing downward pressure, a more open and vibrant Chinese economy has provided precious business opportunities for many foreign enterprises attending the CIIE.
According to Andreas Thorud, the Norwegian Seafood Council director for the Chinese mainland and Hong Kong, exhibitors and visitors from various countries will, through the CIIE, get a real sense of the dynamism of the Chinese market and the vast opportunities it presents.
"For this year's CIIE, I'm truly looking forward to it," said Thorud. "Given that we are entering the first year after the pandemic, I anticipate a surge in visitors, a heightened buzz, and a lot more exciting things going on. I am confident it will be highly successful."
China has seen multiple signs of improvement in its economy in recent months, with major economic indicators for industrial output, consumption and investment picking up.
With China's third-quarter economic performance surpassing market expectations, foreign financial institutions, including the UBS and Deutsche Bank, have raised their forecasts for the country's growth this year.
The high-quality development of the Chinese economy is creating increasing opportunities for foreign firms. Among them is the German pharmaceutical company Boehringer Ingelheim, which is attending the expo for the fifth straight year.
Over the past five years, this company has brought nearly 30 innovative products and solutions to the CIIE, many of which have been approved in China. In the next five years, the company plans to invest more than 4 billion yuan (about 557 million U.S. dollars) in R&D in China.
"China positions innovation at the heart of its modernization drive. The focus on innovation helps global healthcare multinational companies like us capitalize on the huge potential of the Chinese market," said Pavol Dobrocky, president and CEO of Boehringer Ingelheim Greater China.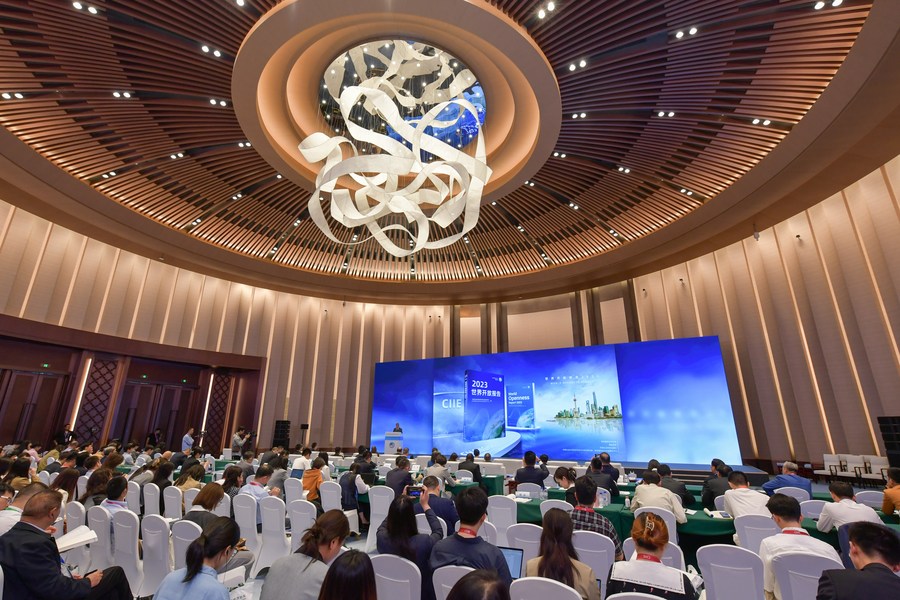 Participants attend the press conference on World Openness Report 2023 and the International Symposium on World Opening-up during the sixth Hongqiao International Economic Forum in Shanghai, east China, Nov. 5, 2023. (Xinhua/Meng Tao)
INCLUSIVE PATH TO DEVELOPMENT
Through the CIIE, countries and companies can find a "fast lane" into the vast Chinese market regardless of their size and strength.
Pakistani exhibitor Habib Ur Rehman brought local specialty lamps made of rock salt to the fourth CIIE, fanning a craze among the expo visitors. He sold about 60,000 lamps through the orders harvested at the expo and a fair in Shanghai dedicated to selling CIIE goods.
"The Chinese market is very resilient, and many of my old customers have already contacted me to order new products for this year," he said. "We hope through the expo, Chinese consumers will pay attention to the originality of Pakistani handicrafts, which will help the sustainable development of our handicraft industry."
This year, about 1,500 small and medium-sized enterprises (SMEs) participated in the expo, with the number of SME exhibitors and their exhibition area up by nearly 40 percent compared with the previous exhibition. The CIIE has also provided free booths and other supportive policies to about 100 companies from 30 least developed countries.
In his letter to the expo, President Xi expressed hope that the expo will play a greater role in providing shared international public goods and services that facilitate an open world economy and allow the world to benefit from win-win cooperation.
Botakoz Yelshibek from Kazakhstan is a first-time exhibitor at the CIIE, bringing many local specialties, such as wheat flour and camel-milk powder, to this year's expo in the hope of making a breakthrough in business.
"The CIIE gives us an opportunity to explore the Chinese market. We hope to establish strategic partnerships with manufacturers, suppliers and buyers from different countries here, further expand our market share, and attract more consumers," she said.