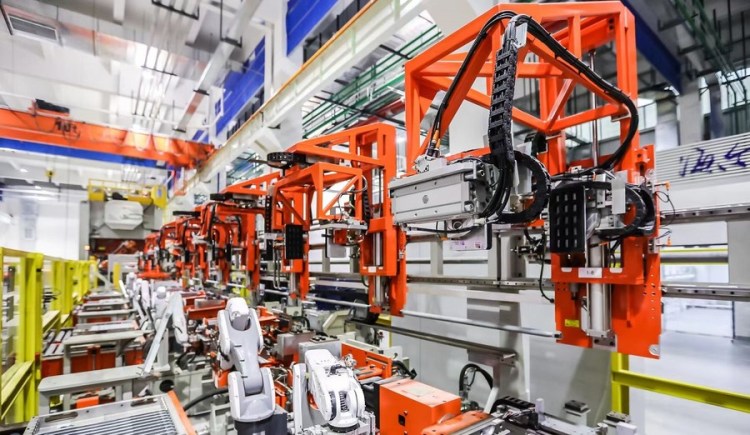 As the world's second-largest economy continues to recover, its private businesses are set to embrace a wealth of development opportunities, industry insiders said.
China's economy will continue to improve in the long run and the private economy, a major impetus in China's modernization drive, will also enjoy long-term positive momentum, said Wei Dong, head of bureau for private economy development under the National Development and Reform Commission (NDRC), at the China Economic Roundtable hosted by Xinhua News Agency.
The economic data unveiled is consistent with the remarks made by Wei. China's economy grew 5.2 percent year on year in the first three quarters. In line with the overall recovery, the private sector saw marginal improvements during the January-September period, posting a faster growth in secondary industry investment and a steady industrial output.
Wei highlighted the role of private enterprises in Chinese modernization, saying that they are fully capable of seizing the new opportunities presented by the global industrial restructuring and layout adjustment.
Private businesses can achieve high-quality development by changing their development modes, adjusting industrial structure and shifting growth drivers, Wei added.
Zhou Zhen, president of Guangzhou Hexin Instrument Co., Ltd., told the roundtable that he was optimistic about the market prospects of tech-intensive products, emphasizing that this is where his company's biggest opportunities lie.
Focusing on mass spectrometry, the scientific instrument producer has been listed among the first batch of "little giants," an official category of selected innovation-driven small and medium-sized enterprises (SMEs) that enjoy a raft of supportive government policies.
Zhou noted that as China strives to achieve self-reliance and strength in science and technology, there is a need for domestically manufactured equipment in research and production. He expressed confidence in overcoming the challenges and catching up with their overseas counterparts.
As a major taxpayer, job provider and GDP growth contributor to the economy, China's private sector has long been highlighted by policymakers. Affected by the external environment, China's 50 million plus private businesses have come under pressure since the start of this year, fueling concerns in a market that is still in recovery.
To boost the private sector, China set up the bureau under the NDRC in September, dedicated to providing better services for private enterprises. Chinese authorities have also unveiled a 31-point guideline and 28 detailed measures, pledging to improve the business environment, strengthen legal guarantees and sharpen the sector's global competitive edge.
With the development of global economy and the solid progress of building the Belt and Road Initiative (BRI), investment and cooperation with BRI participating countries will be a new spotlight in China's external economic activities, Wei said.
In the first three quarters, the yuan-denominated imports and exports of private businesses climbed 6.1 percent year on year, accounting for 53.1 percent of the country's foreign trade. In particular, both import and export growth of the private sector outpaced the headline levels.
Wei said that the bureau will work to help private enterprises participate in international exchanges and cooperation, and enhance their international competitiveness.
China has intensified policy efforts to shore up the private sector, but policy effects have been undercut or delayed as there are multiple headwinds, said Wei Chu, vice dean of School of Applied Economics, Renmin University of China.
The professor called for a more comprehensive policy approach in restoring private businesses' confidence, saying that improvements in macro-economy and the stock market might also help lift market morale.
China's SMEs, 90 percent of which are private enterprises, have already recorded an increase in business activities in the third quarter (Q3).
The SME Development Index, compiled based on a survey of 3,000 SMEs from eight major industries, came in at 89.2 in Q3, edging up 0.2 from the previous quarter and hinting at enhanced market sentiments among SMEs and private businesses in the country.
China Economic Roundtable is an all-media talk platform launched by Xinhua News Agency, with the second episode featuring the Chinese private economy.